Mar 26, 2014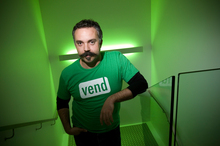 Point-of-sale software provider Vend has raised $25 million in a funding round led by early Facebook investor Peter Thiel
Chief executive Vaughan Rowsell said 2014 was shaping up to be a big year for the Auckland-based company, whose cloud-based technology enables retailers and other businesses to accept payments, track customers, manage inventory, provide loyalty incentives and run business analytics.
The latest funding round was co-led by Thiel's Valar Ventures – which has also invested in New Zealand online accounting software developer Xero – and Melbourne-based Square Peg Capital. Germany's Point Nine Capital, an existing investor, also took part.
"With the support of Peter Thiel and Square Peg Capital, the additional funding will accelerate our North American plans, allowing us to grow our major market and extend into small and independent retail shops across the continent," Rowsell said. "The last few years have seen a resurgence of independent retailers who have become more competitive against big chain stores by adopting cloud based POS software."
Vend said the fresh injection of capital would also be used to expand its growing channel of reseller partners, which include global payment provider PayPal and Xero.
The funding would also accelerate the firm's growth in Europe.
Vend plans to open a London office this year.
The company launched in 2010 and its software is now used in 10,000 stores in more than 100 countries.
Vend completed an $8 million funding round in May 2013.
Auckland-based Milford Asset Management, MYOB founder Craig Winkler and Paul Bassett and Matt Rockman, the co-founders of jobs website seek.com.au, took part in that round.
By Christopher Adams @chrisadamsNZ